KITCHEN, BATHROOM AND WALL TILE REFINISHING
Want your tile refinishing to be cost effective and gorgeous at the same time?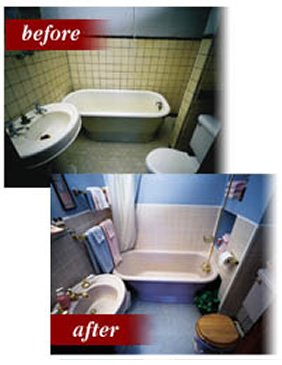 Then spare yourself the mess ripping out worn, cracked or damaged tile!  Just Fuhgettaboutit!  Bar none, the easiest way to restore tile is Perma-Glaze's amazing refinishing technology.
So, slow down a minute! Before you spend your fortunes. Consider this: whether vintage or semi-new, even if you have a broken or one gone missing tile – – it won't matter!!  Why? Perma-Glaze simply replaces it with a compatible style and size and then applies the NEW color or texture of your choosing, and Voila, all the tile match!  Give your bathroom or kitchen an affordable face-lift!  And why stop there?  How about the tile around the outdoor BBQ or bar? The more you do-the more you save! Arizona residents should immediately contact Perma-Glaze to see this amazing stuff. Use it all around the house. Don't even consider the expense of brand new tile when it can look like new for lots less dough. Find out what we can do. In just 3 to 4 hours' time, your sink, bathtub, countertops are sure to shine!
Your new Perma-Glaze finish can be treated much like any other surface, Wash and Wear.
The new surface is tough, durable and stain-resistant. Check out some of our amazing BEFORE AND AFTER PHOTOS of bathrooms and kitchens that have been refinished with Perma-Glaze's refinishing process.  See the pics for yourself and become a believer, 'I wouldn't deceive you if I tried' ♫
Perma-Glaze is a handsome blend of polymer resins and mimics the original surface. A little like a knock-off designer handbag don't ya think-LOL!
Applied to worn or chipped tiles on your kitchen or bathroom counter top or vanity, even the shower floor, Before you can say 'Perma-Glaze' the damaged areas are all shiny and new. We do Matte and Satin too. Great for hiding scratches. It's quick and easy, possibly like someone you've met a long time ago? Save up to half of the cost of buying replacement tile. But get this, you'll avoid turning your bathroom or kitchen into a construction site for multiple weeks!! Give in to your curiosity and check us out, call us.  And remember, we don't give out our number to just anyone!  480-833-0055.
(Kindly let us know if you like our tongue and cheek)